La Crema di Nocciola Ligure
Di bosco raccolta a mano
Utilizziamo materie prime di qualità
Pagamenti sicuri con carta di credito
In tutta Italia e in Europa
La Raccolta delle Nocciole Liguri
Alberto Paradisi racconta: passato e presente di un'eccellenza Ligure
Prodotti del territorio
Diffondi la biodiversità
Cofanetto con Crema di Nocciola Ligure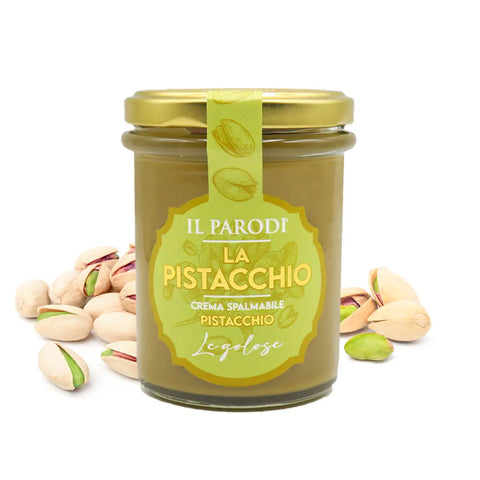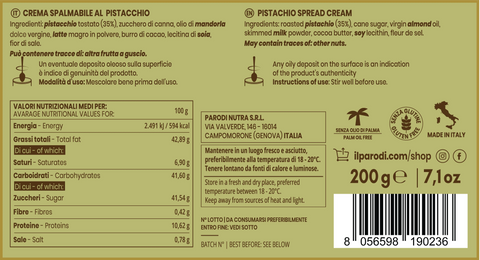 LA PISTACCHIO
Crema di nocciola fondente spalmabile e lampone
LA PISTACCHIO is the pistachio cream with the authentic flavor of pistachio (35%) in a delicate taste. Is a delicious and fine spreadable cream, it can match different moments of the day, from breakfast to dessert depending on how you want to use it. The "LE GOLOSE" pistachio cream from Il Parodi Gourmet is perfect to be enjoyed with a spoon for a sweet break. Discover the whole new collection of "LE GOLOSE". 100% Natural.
Ingredients:
roasted pistachio (35%), c ane sugar, virgin sweet almond oil, skimmed milk powder, cocoa butter, soy lecithin, fleur de sel.
May contain traces of: other nuts.
LE GOLOSE
Le nostre creme spalmabili alla nocciola sono un vero e proprio paradiso per i palati più esigenti! Realizzate con una miscela di ingredienti naturali, le nostre creme spalmabili alla nocciola vi regaleranno momenti di gustosa dolcezza.
Le recensioni dei nostri clienti
Le nostre creme spalmabili hanno riscosso lo straordinario entusiasmo dei consumatori sempre più attenti alla scelta di prodotti genuini e alla ricerca di uno stile di vita sano.
Prodotto unico, che ho conosciuto ad una fiera gastronomica. Ha un sapore unico e genuino.
La qualità del prodotto è indiscutibile, si sente che è una crema di nocciole di qualità superiore. Il gusto è delicato ed equilibrato in tutte le sue sfumature.
Aprendo il barattolo il sentore di nocciola è da subito evidente, al palato il sentore si trasforma in una goduria per le papille gustative!
UTILIZZA IL COUPON "NATALEGOLOSO" 15% DI SCONTO
Scopri la nuova collezione "Le Golose"