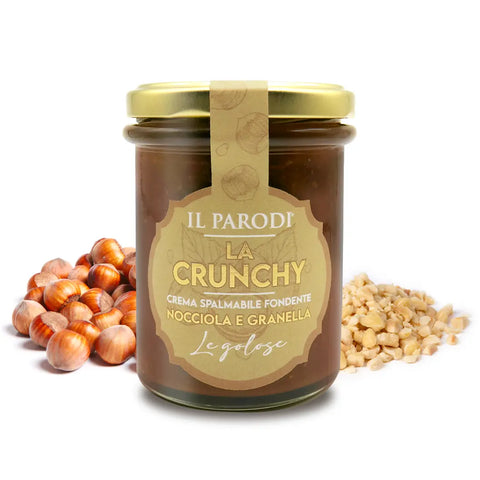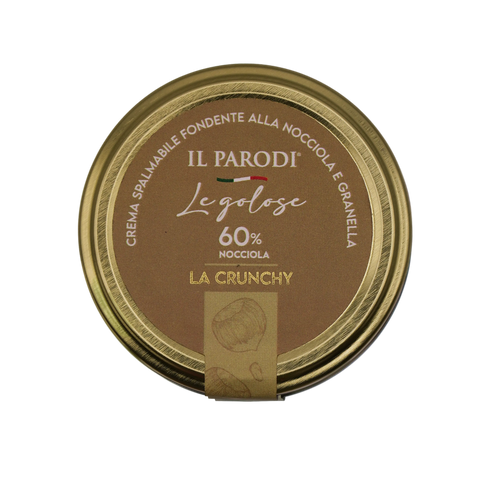 IL PARODI Gourmet - Le Golose
LA CRUNCHY
Dark chocolate Hazelnut spread Cream with Chopped Hazelnuts
The hazelnut cream with chopped hazelnuts LA CRUNCHY offers an experience on the palate, between crunchiness and creaminess. LA CRUNCHY stands out for its extreme gluttony and top quality ingredients. It is ideal for a gourmet breakfast or for filling mini-croissants and small pastries. Taste it by the spoon, it will be a delight.
Ingredients:
"Mortarella" hazelnut (37%), cane sugar, chopped Piedmont hazelnut (23%), bitter fat-reduced cocoa powder, cocoa butter, virgin "Mortarella" hazelnut oil, soy lecithin.
May contain traces of: other nuts, milk.
Valori nutrizionali
- Energy: 2,592 kJ / 626 kcal
- Total fat: 51.29 g
*of which Saturated Fats: 6.68 g
- Carbohydrates: 28.3 g
*of which Sugars: 27.1 g
- Fibers: 9.3 g
- Protein: 8.7 g
- Salt: 0.01 g