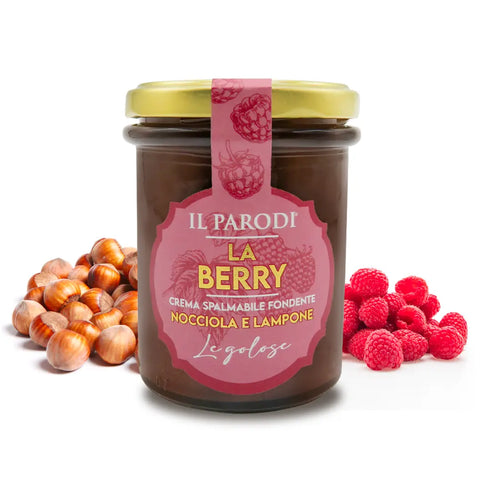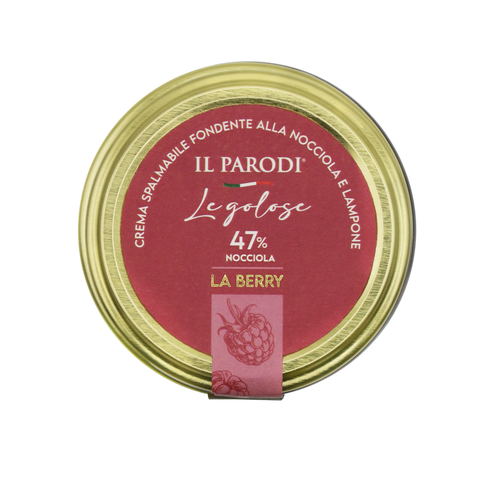 IL PARODI Gourmet - Le Golose
LA BERRY
Dark chocolate Hazelnut and Raspberry spread Cream
LA BERRY is the "LE GOLOSE" hazelnut and raspberry spreadable hazelnut cream. When hazelnuts meet the fresh notes of raspberry flakes, they create a unique and enveloping mix. The LA BERRY hazelnut and raspberry dark chocolate spread is perfect for a gourmet breakfast or for filling mini-croissants and small pastries. Taste it with the spoon, it will be a delight.
Ingredients:
"Mortarella" hazelnut (47%), cane sugar, bitter fat-reduced cocoa powder, sweet virgin almond oil, cocoa butter, freeze-dried raspberry powder (3%), freeze-dried raspberry flakes (1.5%), soy lecithin.
May contain traces of: other nuts, milk.
Valori nutrizionali
- Energy: 2,480 kJ / 597 kcal
- Total fat: 44.6 g
*of which Saturated Fats: 44.6 g
- Carbohydrates: 38.3 g
*of which Sugars: 34.2 g
- Fibers: 4.3 g
- Protein: 8.4 g
- Salt: 0.01 g