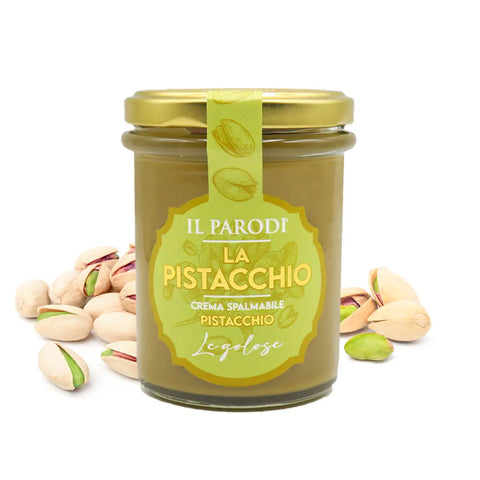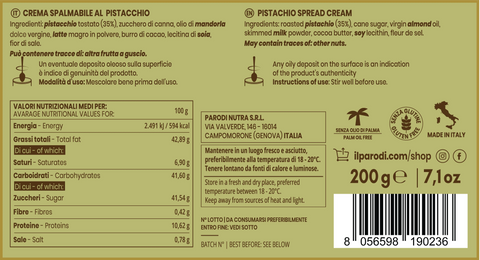 IL PARODI Gourmet - Le Golose
LA PISTACCHIO
Pistachio spread Cream
LA PISTACCHIO is the pistachio cream with the authentic flavor of pistachio (35%) in a delicate taste. Is a delicious and fine spreadable cream, it can match different moments of the day, from breakfast to dessert depending on how you want to use it. The "LE GOLOSE" pistachio cream from Il Parodi Gourmet is perfect to be enjoyed with a spoon for a sweet break. Discover the whole new collection of "LE GOLOSE". 100% Natural.
Ingredients:
roasted pistachio (35%), c ane sugar, virgin sweet almond oil, skimmed milk powder, cocoa butter, soy lecithin, fleur de sel.
May contain traces of: other nuts.
Valori nutrizionali
- Energy: 2,491 kJ / 594 kcal
- Total fat: 42.89 g
*of which Saturated Fats: 6.90 g
- Carbohydrates: 41.60 g
*of which Sugars: 41.56 g
- Fibers: 0.42g
- Protein: 10.62 g
- Salt: 0.78g