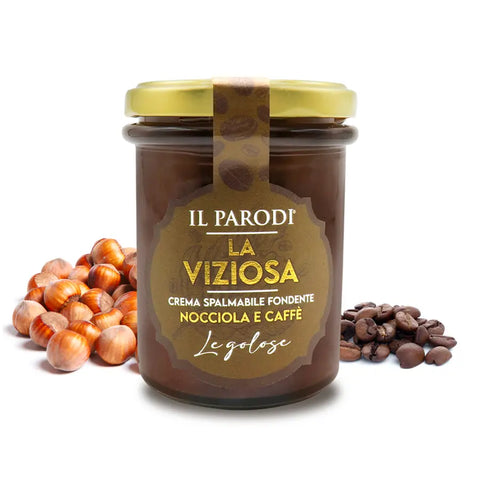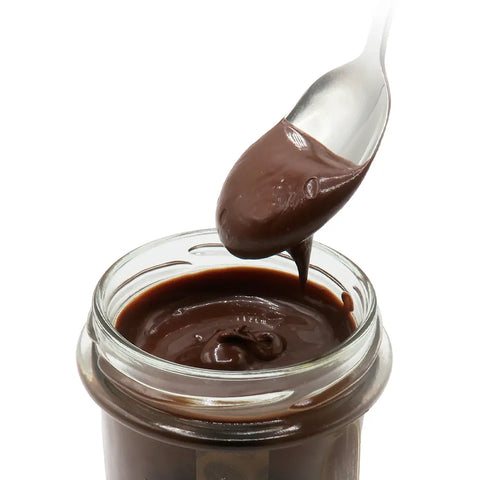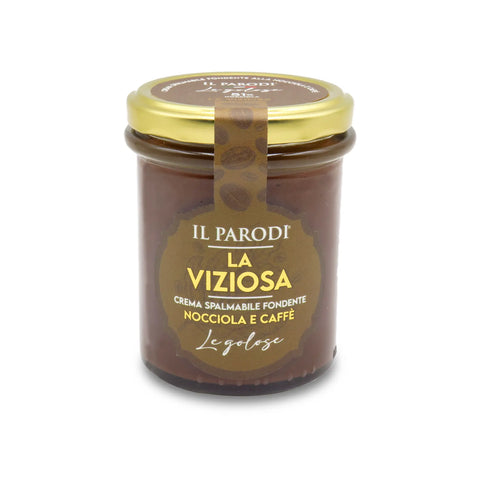 IL PARODI Gourmet - Le Golose
LA VIZIOSA
Dark chocolate Hazelnut and Coffee spread Cream
LA VIZIOSA is the dark hazelnut and coffee spreadable cream from the new "LE GOLOSE" collection. Delicious and velvety, it is perfect to give you the energy you need in the morning. Use it as a filling for your desserts, spread it on a slice of toasted bread or simply enjoy it on its own as a delicious snack.
Our LA VIZIOSA hazelnut and coffee dark chocolate spread is made with vegetable coffee extract
and selected hazelnuts, for an intense and creamy flavour.
Ingredients:
Ingredients: "Mortarella" hazelnut (51%), cane sugar, bitter fat-reduced cocoa powder, cocoa butter, vegetable coffee extract (1.5%), soy lecithin.
May contain traces of: other nuts, milk.
Valori nutrizionali
- Energy: 2,470 kJ / 595 kcal
- Total fat: 43.6 g
*of which Saturated Fats: 6.94
- Carbohydrates: 38.1 g
*of which Sugars: 36 g
- Fibers: 6.1 g
- Protein: 9.6 g
- Salt: 0.01g